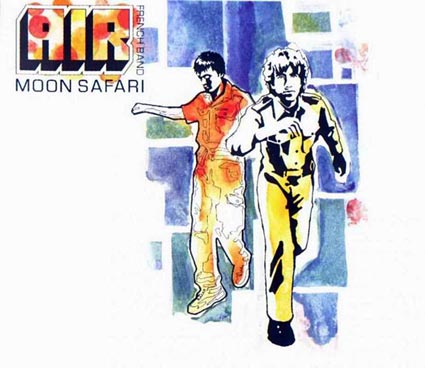 "And if I need more, it'll come."
I just wrote that on my notebook and within minutes—or maybe seconds—the song, "All I Need" by Air (from the album, "Moon Safari: A Lunar Adventure") played randomly on iTunes. Doesn't that sound divine, literally? I know God listens and affirms with grace.
I had a full day with family today. I know for many of you reading this blog, it's not unusual to spend Sundays with loved ones, hearing mass, going out to lunch, shopping around town, enjoying a hearty dinner. But to me, this is something I treasure because I'd missed out on this for many years, having lived independently since my early teens and for most of my adult life.
I always joke with my mother that I've done this totally backwards. In the Philippines, most girls live with their parents until they're married. Some get their own apartments after graduation, but the former is the norm. I, on the other hand, am living with my mother for the first time since I was 13! It's as if I'm cashing in on those missed years. But Mom says it's not even an issue: I'm getting married, and I need to save up. And she loves having me around, taking advantage of her marvelous kitchen gadgets. So Thank you, mom.
Anyway, I dormed throughout high school and up to Freshman year college. By then my aunt and uncle said I should be spending college in a family environment (I was an only child at the time), so I lived with them, and my three cousins, for three years. We were quite close, to the point that my youngest cousin, who had been born the following year, thought I was her sister. Eventually, I moved out (and my cousin cried when she found out I was her cousin! Aww...)
Don't get me wrong, dear blog readers: To borrow Liv Tyler's words describing her childhood, "Mine was filled with love." There may have been times when my parents were absent, but everybody pitched in and provided me with a sense of family. Probably quite the non-traditional kind, but family nonetheless. My favorite aunt, Tita Joan, once said, "Family isn't just blood." And it's true.
As for those times my immediate family members were 'absent,' my dad, back then was new at his newspaper job and was busy toiling away at work to the point that he bunked with other reporters/editors in the office living quarters for many years. He didn't get paid much in the beginning, but he was able to send me to college and provide for me financially. Plus share helpful books (see my "Good Morning, America
post
from last year) and insights along the way.
My mother, on the other hand, was busy trying to get all of us a green card. These days she lives comfortably, but during her early years in the U.S., she took on several jobs to make ends meet. Eventually, after the strain of a five-year long distance relationship, she and my dad split. But I won't elaborate on that in this post (looong story).
Anyway, those three years I'd lived with relatives before moving out were quite critical in my growth as an adult human being:
I learned to ride a bike at 16.
At 16, Tito Al hired an instructor to teach me how to ride a bike. This was in Baguio, (a northern city in the Philippines) during a family vacation, and they didn't come get me until I was balancing/wobbling on my own. Within weeks, we were rough-riding at the construction site of what is now The Fort. I am not kidding—we were biking around tractors, submerged in dirt, on unpaved/non-existent roads. By Christmas that year, Tito Al and Tita Joan gifted me with a bicycle—one that I took to school, to the climbing gym, around town.
At 17 and 18, I learned to eat Boursin and Havarti, enjoy chewy walnut bread from the Mandarin Hotel, eat chicken baked in paprika, know what a clean kitchen and living room should look like, source seat covers from obscure places, PAINT a gate (not kidding!), clean and oil a bicycle, do long and short runs, make (or destroy) carbonara, and so forth. The works.
By 19, I was on my own, again. But armed and ready to be independent. I didn't go wild, I'd been trained well. I felt like a responsible adult.
In retrospect, I see that no matter how life seemed lacking or incomplete at different points in time, I'd actually been given the building blocks needed for each step of the way and every accomplishment. Sometimes it's just easier to fixate on what's missing, and crave for certain things, but looking at the big picture, it's all in there.
DAY 4
of the Inspiration Series
DAY 3
- "Just wait for it."
DAY 2 - "You're a kind soul."
DAY 1 - "It smells like God."
Image courtesy of http://www.tunequest.org/ (album) and http://www.allthingsjeep.com/ (bicycle).